The first art book that I purchased was The Complete Van Gogh; Paintings -Drawings- Sketches. I was 16. My family was on vacation in California, started in San Diego and worked our way up to San Francisco. My birth place almost ,Oakland really, my favorite city on the west coast. We were strolling around the streets and found this open market with tons of stalls and one in particular that was just tables and tables of books. At least  that's what I remember. I fell in love with this book right away. I just needed to convince my parents that I needed it. I had to promise that I would be able to fit it in my luggage and would be responsible for it. The thing is that this book is very large and heavy! It measures 14 x 10 inches and is 2 inches thick. Not a very practical thing to buy on a vacation as a memento, but I had to have it.
    My love of Van Gogh was almost bred into me. My earliest memory of his work is a poster of his Sunflowers that my Mom had hanging in her bedroom. I was about 4 years old and I can remember sitting and staring at that painting, wondering why he signed his name in red? Looking at the thick brush strokes of paint used on the petals and how he made the whole vase seem to dance!
    Next was when we moved to a big farm house and my Mom had a big studio space with all of her art books in ready view for me. She had a copy of Lust for Life that had his drawing of Sorrow on the cover. There were a couple other prints inside, but I can't really remember them, just Sorrow. Very powerful drawing and very unlike any other of his subject matter. Even at that early age, the drawing made sense to me…now I know that it is his use of lines and composition that make this little piece…but then it was just sad and moving.
    Van Gogh was ever present in my education in the arts. When I was studying as a teen at Barnstone Studios in Coplay, his drawings were used to teach us about shapes and creating movement and shape in a 2d drawing. I still have the tracings of the drawings that I studied.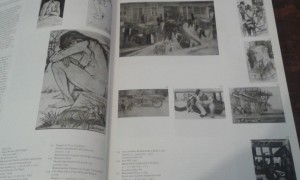 This just shows that early exposure of art to children has more impact than people think. It makes me sad to think that so my children are not exposed to art. Books and museums are keys to understanding people and other ideas in the world, that seem to get lost when looking at them on the web. Books allow you to feel that you own that painting, even if it is just a little copy, you can see it and hold it any time you like!
    I pull this book out all the time, it has lost its dust jacket, been nibbled on by my dog and traveled from California to Pennsylvania, Colorado and now has a home in England. But, all this just makes it a more important part of myself.
https://rebeccanoelleartstudio.com/wp-content/uploads/2015/11/20151113_112634.jpg
1536
2560
rebecca noelle
https://rebeccanoelleartstudio.com/wp-content/uploads/2018/04/weblogo3.png
rebecca noelle
2015-11-13 19:00:56
2015-12-04 10:39:52
The Complete Van Gogh; My first art book